Practical Driving Courses
Specialist one-to-one practical driving courses delivered by our former police driving instructors for those that wish to enhance their driving skills to a higher level.
I would thoroughly recommend Paul to anyone thinking of doing a driving course, whether you are an experienced driver or novice looking to improve your driving skills. A very patient and understanding instructor with a great deal of knowledge, you won't find any better.
I would highly recommend Paul after taking a refresher course under his instruction. His experience, knowledge and skills enabled him to quickly spot any weak points and work on them – an excellent instructor.
When I started the Scottish Office of Security Drivers International, I already had many driving credentials. I felt at the time that I needed to bring all my training under one umbrella. I had undertaken many driving courses throughout my time in the Army, the Military Police and the Close Protection Industry. I conducted a week's training with Paul on a one to one basis in an Audi A6. Having tuition with a former Traffic Police Instructor with vast experience was invaluable. I thought I was a good driver until I conducted this training. I learned new skills everyday. I was fully briefed daily and critiqued on my practical ability and received a written record of my performance. There were bad habits I had to stamp out. The training was challenging but excellent and unique. My favourite was the skid pan. I would absolutely recommend Paul to anyone of any level who wants to better their driving skills.
Unlike many courses, which are delivered to many students in a classroom, our courses can be tailored to a your personal needs. You will have the undivided attention of a highly qualified professional instructor with many years' personal experience in the field. Our instructor's experience and qualifications will result in you will receiving high class demonstrations as well as verbal instruction.
A further advantage is that these courses can be set up whenever you need it; we are not dependent upon filling a classroom with people—our classroom is the car!
Instruction will be delivered in a modern suitable vehicle, such as a Mercedes Benz, E or S class; BMW 5 or 7 series; or Audi A6 or A8.
A handout will be provided which covers all the relevant features of Roadcraft and also useful information about your chosen driving career.
You will be assessed against a framework of competencies and graded accordingly. You will also receive a final report detailing your experiences, effort and ability during training. Instruction and de-briefing will be confidential as there will be no other students on your course.
Your chosen course will include (subject to availability) a session at a skid pan, where you will not only learn about safety systems such as ABS, ESP/DTC/DSTC fitted to modern vehicles but the session will also allow and help you to hone your car control skills in a safe learning environment.
Reports and certificates will be emailed or posted upon successful completion of each course.
SDI Driver Training Courses
All Driver Training Courses start and finish in Chelmsford, Essex. Hotels are available for students if required.
Chauffeur Course
2 Days, 9am – 5pm
Course Specifics:

One-to-one practical driving course.

Covers 'Roadcraft' subjects.

Aims to increase the safety, awareness and professionalism of the chauffeur.

Eligibilty:

Full car driving licence. (Limitations may apply subject to motoring convictions).

Further driver training/qualifications are desirable.
VIP Course
2 Days, 9am – 5pm
Course Specifics:

One-to-one practical driving course.

Based on 'Roadcraft' subjects with extended, advanced techniques.

Aims to increase the safety, awareness and professionalism of the student, with an improved level of safety and appropriate driving for a VIP.

Also includes helicopter pick ups and drop offs, airside operations at airports and close protection/security considerations.

Eligibilty:

Police/Military trained to Standard level or equivalent or successful completion of our Chauffeur course.

Further driver training/qualifications are desirable.
Security Driving Course
2 Days, 9am – 5pm
Course Specifics:

One-to-one practical driving course.

For selected students who have achieved an exceptional level of competence and have been recommended for this level of training.

Should the student require actual convoy driving practice and instruction, this will be carried out in conjunction with a second Security Drivers Vehicle, driven by another of our in-house former police VIP Anti Hijack Instructors at an additional cost of £425 + VAT.

As this is a bespoke course, the content will remain flexible to the course needs.

Eligibilty:

Police trained to Advanced, first class level or equivalent or successful completion of our VIP course, with a recommendation for this Security Drivers course.

Further driver training/qualifications are desirable.
Which Driving Course do I need?
| Your existing driving qualification: | SDI Driver Course available: |
| --- | --- |
| Government issued normal driving license | Chauffeur |
| UK Police/Military 'Standard' level or SDI Chauffeur | VIP |
| UK Police/Military 'Standard' level or SDI VIP | Security Driver |
Meet Paul Gridley, our Driving Instructor
Our senior instructor, Paul, spent 30 years in the British Police, serving a a Firearms officer, Traffic Patrol officer, Air Support (Helicopter) officer and Police Driving instructor.
During his time as a Police driving instructor, he qualified as an Approved Driving Instructor with the United Kingdom Driver and Vehicle Standards Agency (DVSA). He also developed and ran the Pursuit course, delivered VIP/close protection driver training and was selected to train new instructors.
Paul has trained hundreds of students at all levels from Learners, to Police Instructors and has run his own driving school since 2008. He has further qualified in NVQ Level 3 as an assessor and holds an L12 Coaching qualification. His wealth and breadth of experience assists him to find the right methods and techniques to develop your skills.
Paul also holds UK driving licenses for Motorcycles, Heavy Goods Articulated Vehicles and Passenger Carrying vehicles (with trailers). He is also a keen cyclist and applies his knowledge of these varied vehicles to his driving instruction.
Paul's instruction is always based around 'Roadcraft', the police drivers manual that is also used by the Institute of Advanced Motorists (of which he is a member).
Paul can offer bespoke driver training to any person at any level and has been selected by Security Drivers International to deliver training on their behalf.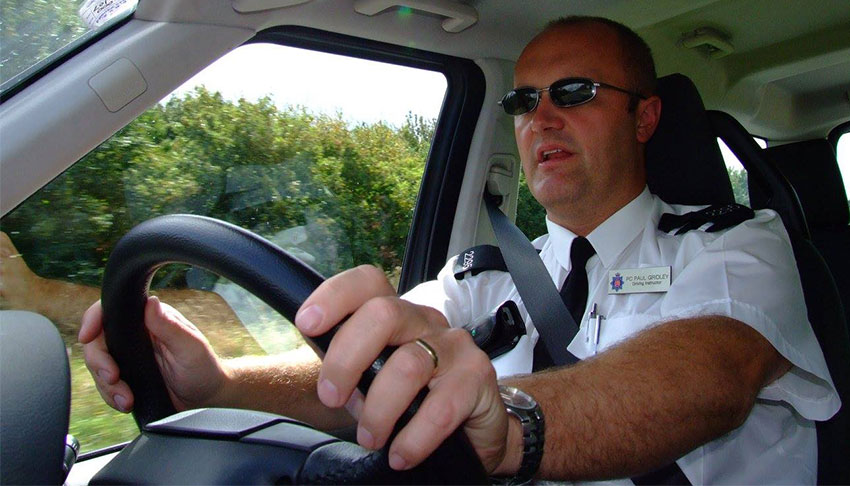 Get in touch for more information
Contact our fully trained, experienced experts today to enquire about your Driver Training.